45-storey tower proposed as part of Sydney Olympic Park development | ArchitectureAU
Fitzpatrick and Partners' competition-winning design for an apartment and office complex in Sydney Olympic Park has been submitted for planning approval.
The proposed development would include a 45-storey tower with 464 serviced apartments, a 12-storey office building with ground-floor retail, and two pavilion structures of two and five storeys. The pavilions are intended to act as "urban markers," reconciling the deep setbacks required for the larger buildings due to the rail corridor and a significant fig tree on the site.
In planning documents, Fitzpatrick and Partners describes the 45-storey tower as "a building in a plaza … a tall singular form with a circular plan." Its curved form responds to various curved elements throughout Sydney Olympic Park, including the Olympic Park station building.
Splitting the office building and apartments into two buildings means that the serviced apartments can be elevated to a greater height than they would otherwise be, while the office building can be built from cross-laminated timber. It also allows for the creation of an active open space around the buildings. "The form and nature of the open space created not only seeks to service the two buildings but to create a separate destination that supports the functionality of both the buildings internally and Jacaranda Square opposite," Fitzpatrick and Partners states. "This occurs through the provision of additional areas of activation and places to dwell, relax, sit in the shade or enjoy a spot in the sun."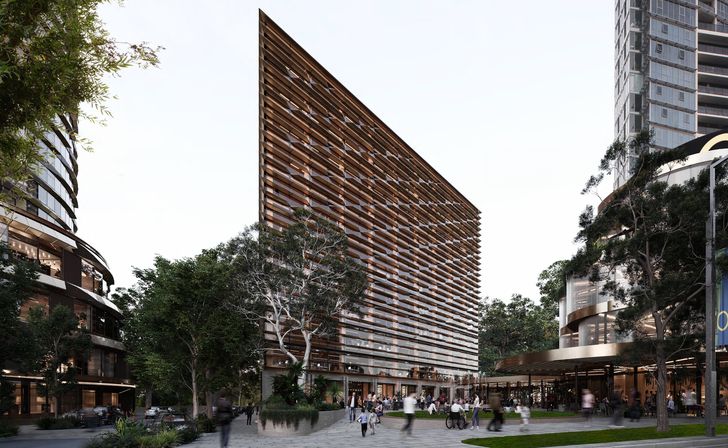 The project's landscape architect is Arcadia.
Fitzpatrick and Partners' scheme was selected in 2018 through the Sydney Olympic Park Architectural Design Competition.
The jury commended the circular tower form, noting that it reduced the façade area and overshadowing, and praised the integration of the office building with the urban plaza.
A state-significant development application is on public exhibit until 27 January.
Source: 45-storey tower proposed as part of Sydney Olympic Park development | ArchitectureAU